The All By Itself Salvationist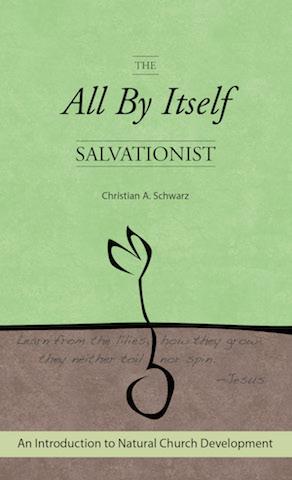 When ordinary corps, with ordinary people, take the principles of Natural Church Development seriously, God does give the increase.—Colonel Henrik Andersen
How does this booklet help you?
The All By Itself Salvationist invites you into a 90-minute with Christian A. Schwarz, the founder and head of the Institute for Natural Church Development (NCD). Christian will reduce the discoveries of two decades of research in tens of thousands of churches to a handful of personal action steps. that can be put into practice by any corps. While countless churches have implemented individual aspects of Natural Church Development, the majority have yet to discover the strategic key that Christian calls the All By Itself Pathway—consistently living in line with the unique gifts, energies, and resources that God has already granted you and your corps.
How can your corps grow in quality and quantity
regardless of unfavorable circumstances in society?
How can you have the greatest impact on your corps
regardless of your level of responsibility?
How can you maximize your fruitfulness in all areas of life
regardless of your present starting point?
What's in the book?
Compact full colour 96 page booklet
Preface by Colonel Henrik Andersen
The real obstacles to church growth
Qualities of growing churches
—or vital patterns of behavior?
The benefit of a principle-oriented approach
The eight qualities of growing churches

Quality 1: Empowerment
Quality 2: Gift-activation
Quality 3: Passion
Quality 4: Effectiveness
Quality 5: Inspiration
Quality 6: Community
Quality 7: Need-relief
Quality 8: Love

Decline is not a destiny
Releasing "all by itself" growth
Transforming energies
The "three colours" in The Salvation Army
What is your decisive point?
What is your job—and what is God's?
What each of us can do—right away
Principles and tools
Invite others into your discovery
Volume discounts:
2-5 books @ 10% = $9 each
6-9 books @ 20% = $8 each
10-19 books @ 30% = $7 each
20+ books @ 40% = $6 each
Do you have a bookstore or do you have a much larger order in mind? Contact [email protected] for possible additional discount.
(Volume discounts are based on the total number of any kind of books from this site. e.g. One copy of The All By Itself Salvationist plus one copy of Color Your World with Natural Church Development will attract a two book discount. Discounts will be reflected at the final stage of the checkout process.)
Free shipping on orders of any size