The 3 Colors of Community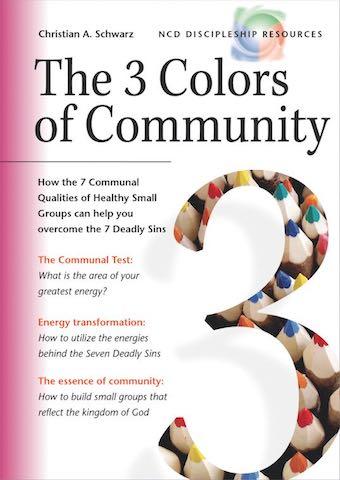 Pride, gluttony, envy, greed, anger, sloth, lust—it's not enough to say "no" to sin
How does this participant's workbook help you?
The Communal Test will help you discover the secret to your spiritual power.
Energy transformation will help you to utilise the energies behind the Seven Deadly Sins.
You will discover how to build small groups that reflect the kingdom of God.
"When thinking about contributing to explosive church growth by means of a contemporary small group, probably the last thing that comes to mind is heaven and hell. "You've got to be kidding, Chris- tian," a church consultant remarked when I shared my insights with him. "These are the very topics we take great care to avoid."
"I know," I replied. "And I am convinced that points directly to the root of the problem. We have avoided dealing with the most relevant topics—maybe because we had a fuzzy understanding of them—and have been so proud of entertaining people with a wealth of peripheral aspects of Christianity."
The primary intention of this book is not to present techniques for running a small group. Rather, it is to lay before you that which makes up the core of Christian community. And to present it in a way that demonstrates what Christianity can, and indeed, should be—no less than a glimpse of heaven."
What's in the book?
A bookmark with a code giving you direct access to the online Communal Test (paper version of the test also included).
Chapter 1: The essence of Christian community—Why we have to address the Seven Deadly Sins...
A small group is a group that is small
What makes a small group holistic?
Sin—breach of community
Why it's not enough to say "no" to sin
Christian consumers or disciples?
Chapter 2: The Seven Communal Qualities—How to address the 7 Deadly Sins...
A path away from pride
A path away from gluttony
A path away from envy
A path away from greed
A path away from anger
A path away from sloth
A path away from lust
The Communal Test: What is your greatest energy?
Chapter 3: Let the light shine—Creating community that changes lives...
Sin as the absence of light
Identifying the different voices within you
Establishing more holistic groups
Christian community—a glimpse of heaven
144 page full colour participant's workbook
Volume discounts:
2-5 books @ 10% = $18.00 each
6-9 books @ 20% = $16.00 each
10-19 books @ 30% = $14.00 each
20+ books @ 40% = $12.00 each
Do you have a bookstore or do you have a much larger order in mind? Contact [email protected] for possible additional discount.
(Volume discounts are based on the total number of any kind of 3 color books from this site. e.g. One copy of The 3 Colors of Leadership plus one copy of The 3 Colors of Community will attract a two book discount. Discounts will be reflected at the final stage of the checkout process.)