The 3 Colors of Love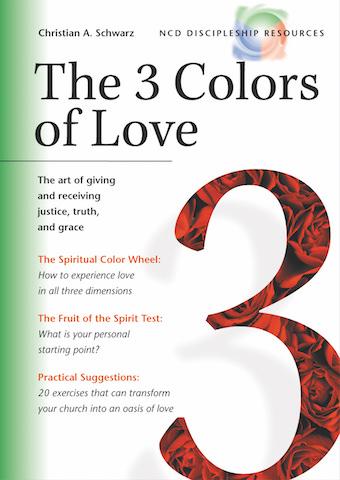 Would you like to see a biblical, practical, deeper form of love transform the relationships in your world?
How does this participant's workbook help you?
The fruit of the Spirit Test will help you and your friends discover the ways in which you reflect God's love and the ways in which He is not seen so clearly in your life
The study on full biblical love will help restore aspects of it in your heart and mind that are all but forgotten in much of the world today
Practical personal and church-wide exercises will help you to grow in the most important thing... love
What's in the book?
"Love. it is one of the most central words of Christian theology, and yet one of the foggiest words on planet earth. Many Christians who use this term communicate a clearly secular understanding rather than a fully biblical concept. Sometimes it almost seems that as Christians we haven't even really begun to grasp the full scope of the biblical concept of love, let alone put it into practice. But what is the biblical understanding of love?" Christian A. Schwarz
Chapter 1: What are the three colours of love...
The love deficiencies in our churches
Misconceptions of love
God is love
God is light
What is darkness?
Practicing love means reflecting God's light
Model for Justice: James
Model for Truth: John
Model for Grace: Paul
Love can be learned
Your personal growth process
Chapter 2: How to reflect God's love...
Understanding the fruit of the Spirit
1 Corinthians 13 and the spiritual color wheel
The Fruit of the Spirit test
The fruit of patience: Enduring love
The fruit of joy: Rejoicing love
The fruit of peace: Reconciling love
The fruit of faithfulness: Reliable love
The fruit of goodness: Correcting love
The fruit of kindness: Amiable love
The fruit of self-control: Disciplined love
The fruit of gentleness: Humble love
Chapter 3: Twelve exercises that can revolutionise your life
Chapter 4: Eight exercises to transform your church into an oasis of love
144 page full colour participant's workbook Download Sample
Volume discounts:
2-5 books @ 10% = $18.00 each
6-9 books @ 20% = $16.00 each
10-19 books @ 30% = $14.00 each
20+ books @ 40% = $12.00 each
Do you have a bookstore or do you have a much larger order in mind? Contact [email protected] for possible additional discount.
(Volume discounts are based on the total number of any kind of 3 color books from this site. e.g. One copy of The 3 Colors of Love plus one copy of How to Implement The 3 Colors of Love in your World will attract a two book discount. Discounts will be reflected at the final stage of the checkout process.)
Free shipping on orders of any size