The 3 Colors of Leadership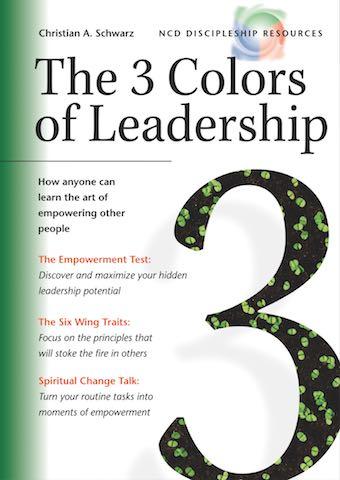 Don't tackle today's challenges with yesterday's leadership tools.
How does this book help you?
The Empowerment Test will help you discover and maximise your hidden leadership potential.
Six wing traits focus you on the principles that will stoke the fire in others.
Spiritual Change Talk will turn your routine tasks into moments of empowerment.
"Why is it mandatory that we tackle the global leadership crisis and that every reader of this book contribute to this goal by allowing his or her hidden potential to be unlocked? When talking to representatives of both Christian and secular organizations, I constantly hear that most of the difficulties they face are related to leadership issues. This manifests itself in...
lacking leaders (not enough),
inadequately trained leaders (not empowered), or
leaders that simply don't do what would be the most important thing for them to do (not empowering).
If this is the situation, we have to do something about it. What our world desperately needs in order to face the challenges of the future, are more empowered leaders who can empower others. Courageous people who are willing and able to stoke the fire in others by turning everyday encounters into moments of empowerment. If together we can make this happen, it will dramatically impact upon the greatest challenges in your world and mine."
What's in the book?
A bookmark with a code giving you direct access to the online Empowerment Test.
Chapter 1: Are you a leader?—don't assume the answer...
Empowering—or only powerful?
A radical change of perspective
The three dimensions of leadership
NCD Davids—the true movers and shakers
Chapter 2: The 6 wing traits—key to empowerment...
The Empowerment Test
The two wings of vision
The two wings of experimentation
The two wings of capacity
The two wings of strategy
The two wings of training
The two wings of progression
Chapter 3: Spiritual Change Talk— empowering conversations...
What spiritual change talk is all about
The art of empowering future leaders
144 page full colour participant's workbook
Volume discounts:
2-5 books @ 10% = $18.00 each
6-9 books @ 20% = $16.00 each
10-19 books @ 30% = $14.00 each
20+ books @ 40% = $12.00 each
Do you have a bookstore or do you have a much larger order in mind? Contact [email protected] for possible additional discount.
(Volume discounts are based on the total number of any kind of 3 color books from this site. e.g. One copy of The 3 Colors of Leadership plus one copy of The 3 Colors of Community will attract a two book discount. Discounts will be reflected at the final stage of the checkout process.)
Free shipping on orders of any size