The Threefold Art of Experiencing God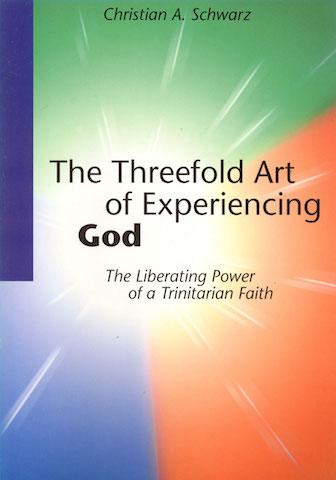 Would you like to better understand the practical power of a trinitarian faith?
How does this book help you?
"In my seminars I have made the same discovery again and again: A new understanding of the Trinity no only leads us toward a new view of God, it also guides to new experiences of God. It leads to a deeper recognition of our strengths, our limitations, our images of adversaries, our dreams, and our fears. In an amazingly simple way it explains the conflicts which so often paralyse Christianity, and can become a creative key in directing the energy hidden beneath such conflicts toward a constructive process of change." Christian A. Schwarz
What's in the book?
Introduction: Why I am writing about the Trinity
Chapter 1: Believing is experiencing
Chapter 2: Three ways of experiencing God
Chapter 3: The mystery of the Trinity
Chapter 4: A Christian pantheon of Gods?
Chapter 5: A segmented God
Chapter 6: How heresies develop
Chapter 7: Self-assessment: which colours do you reflect?
Chapter 8: Learning from God's creation
Chapter 9: Where false views of God lead
Chapter 10: The eternal battle between two misunderstandings
Chapter 11: Why so many conflicts appear unsolvable
Chapter 12: How paradigms change
32 page full colour booklet Download Sample
Volume discounts:
2-5 @ 10% = $9 each
6-9 @ 20% = $8 each
10-19 @ 30% = $7 each
20+ books @ 40% = $6 each
Do you have a bookstore or do you have a much larger order in mind? Contact [email protected] for possible additional discount.
(Volume discounts are based on the total number of any kind of 3 color books from this site. e.g. One copy of The Threefold Art of Experiencing God plus one copy of The 3 Colors of Your Spirituality will attract a two book discount. Discounts will be reflected at the final stage of the checkout process.)
Free shipping on orders of any size